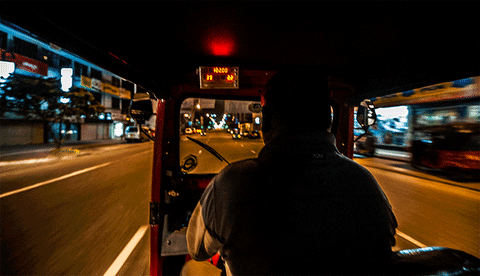 Welcome to New Delhi, India
Chapter 1: Tik-Tuk
July 24, 2016
It was 2AM in New Delhi and the night was alive. Nineteen hours after taking off from Chicago, I found myself in a monstrous city that houses a population of 24 million. This new journey was daunting yet exhilarating for I had never been this far out in the world by myself. I made my way through the visa checkpoint and after the requested information/ fingerprints were uploaded into the system, I continued on to baggage claim, grabbed my bags, and proceeded to make my way out of the facility towards the on-site Taxi desk. Once I arrived, a gentleman in his late 30's, early 40's made his way towards me and asked if he could offer taxi service. After he asked me where I was headed, I showed him the address I had for my reserved stay in a Delhi hostel via my phone. I followed up by asking how much it'd cost for his service and he quickly answered "500 Indian Rupees." Being that the subway station was closed at this time and I wanted to make my transition as painless and smooth as possible, I decided to proceed. I made my way towards his cab while contributing to a dialogue. The trip began, the small talk continued, but gradually turned into a very personal interrogation. An unsettling feeling dominated my body and I began to raise my guard. After a good 20 minutes of driving, it appeared we were close to my destination, but the roads, blocked by security fences the Delhi police had installed, prevented us from moving further along the road. He explained that I had arrived precisely during a festivial time and thus, the reason for the barricades. We tried going a different route, but nothing; the roads ended the same. He then proceeded to tell me that we'd have to take a different route and stop by the government's tourism office to ask for the best way to my destination. Reluctance reigned.
We made it to the "government" office and now the red flags were ferociously waving right in front of my face. He got out of the vehicle, asked me to give him the address of the place I was going to be staying at before he made his way into the building. I was VERY reluctant of letting him take my phone with him inside, so instead, I grabbed my prints which had the address on them and let him take those. Meanwhile, I called the hostel I had booked my stay at to ask what they recommended I do. I was told that no, the roads were not closed and that the taxi driver was trying to scam me. He came back with a gentleman who promised to help me; I felt VERY uncomfortable. The guy began caressing my arm and told me to trust him, that he'd help me out. The driver cosigned the stranger's statement and assured me I was in good hands. I called my hostel one more time and they told me the contrary; that I had to get out! Being that I knew nor the language, nor the city, I felt like I was in an extremely precarious situation. The driver, seeing that I was not budging, furiously instructed me to get out of his vehicle all while simultaneously removing my luggage from the trunk of his car. I walked outside, grabbed my bags, and waited on the side of the road. He snatched the 500 Rupees I had previously pulled out of my bag to pay him with and proceeded to drive away. It was 3AM, and I was all alone in a street of a city I knew very little about while standing next to a shark who was circling my perimeter. The guy continued to invite me into the tourist office and started getting very touchy feely. After he slapped my derriere, he followed up with "Do you want to get f**ked tonight; you have a really nice ass!" By this point, I knew I HAD to GTFO. I began trying to pull in whatever transportation service it is I could catch (taxi or tuk-tuk) so it could take me to my destination and as far away from this guy as possible. Morocco's experience was still extremely present and I did not want anything similar to repeat. What I was unaware of this whole time the taxi driver was talking to me was that he had been sizing me up. He talked to me not because he cared or was interested in my life, but because he was wanting to see what he could get out of me. I was determined to overcome this situation and move into safer grounds. I assured myself this guy would NOT be taking advantage of me.
An empty tuk-tuk made his way towards my signaling hand. I showed him the address of my hostel via my phone while the other guy continued to caress my arm with his hand. The tuk-tuk driver saw what was going on and seeing my discomfort, he agreed to take me to my destination after I nicely asked him. I quickly tossed my luggage into the vehicle and instructed him to GO! The driver sped off; I soaked in the view from my back seat paying attention to every street we passed. I wasn't out of danger yet, and couldn't afford another misfortune. Thankfully, the driver took me right to my destination. I called the hostel up one last time so they could open the door for me and shortly there after, was warmly invited in and shown to my room. Finally, I felt I had reached safety. I quickly made way towards my bed and dozed off understanding that honesty was like a sheet of crumpled paper which could no longer be unwrinkled. This experience had left a very bitter taste in my mouth; one that not even mouthwash could disintegrate. I've learned the hard way that being a good person doesn't guarantee that other people will be too. India was bound to pose a challenge, but I was determined to bring the best out of it all. It was now 4AM and the clock tik-tuked away while I lay in bed covered in hope for the new day which awaited.