 When it comes to the architecture and design of the city of Warsaw, the colors and structures are picture worthy. As a matter of fact, many big Hollywood franchises shot films like the Pianist and Schindler's List here. The radiant colors of the plants' décor along the streets make you appreciate the beauty of all buildings, especially the eerie, plain communist structures that are sparsely scattered throughout the city reminding one of that dark time in history known as World War II. I LOVED learning about it all via walking tours offered by my hostel. Many of the currently standing structures were destroyed during the war and were later rebuilt to look as they did prior to demolition. An inspiration from Warsaw's spirit of survival, persistence, and unity awakens. Even though Poland went through a really dark time in history, it's managed to rise up like a phoenix. Many of the citizens even donated their own money to rebuild structures important to their social fabric like the Royal Castle which sits within the boundaries of the Old Town of Warsaw. Needless to say, there is a variety of architectural structures that contribute to the charm of this capital. You are bound to get many amazing shots in this city. But, that's not all; the food is absolutely delicious! The plates I had the privilege of tasting like the famous Pierogies and Zuppas (both cold and hot) are essential must-haves of Polish cuisine. They are healthy, filling, and full of appetizing nutrients (particularly the zoupas which come in different flavors: tomato, beet, tortilla, carrot, strawberry, etc…) In conclusion, Warsaw has a lot of wonderful things to offer that I thoroughly enjoyed.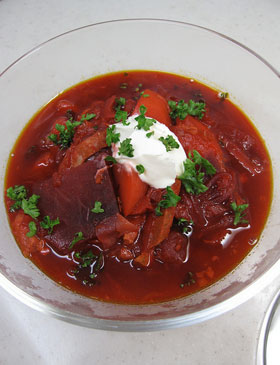 Diversity- you think of cities like New York, London, Los Angeles, Paris… ALL wonderful and full of various cultures that make them richer and even more thrilling. Warsaw and diversity just don't go hand in hand. What I grasped from my Polish experience was that the overall feel is very conservative and not so embracing of outsiders; hospitality is not their strength. There were MANY times I found eyes looking at me whether it be for my race, what I was wearing, or some unknown reason, and then quickly looking away as soon as they became aware I noticed them pretending they weren't previously directing their sight towards me. Quite frankly, this would be a city I feel an individual such as Trump would most definitely be celebrated. Coming from a cultural background whose family and friends are usually vibrant, warm, and welcoming, I found this cultural difference to be a little unsettling. One instance I'll never forget is when I walked into a hair salon to get my haircut and was not greeted with a smile or "Welcome! How can I help you," but rather with a frown and a: "It's going to be an hour!" Their service made me realize not only how great I am at MY customer skills, but that in America, we prioritize and go out of one's way to treat our customers EXTREMELY well. Needless to say, I left and paid them no mind. Perhaps Krakow would would have provided a better ambiance being that it's known for having a thriving party atmosphere that draws four times the amount of tourists to its city when compared to Warsaw. What I love most in life are fun, happy, diverse groups of people and I had a difficult time finding that here. Needless to say, I will probably not return to Warsaw or Poland any time soon unless I'm part of a big project (movie, concert, etc…) that requires my attendance and participation. However, I am very grateful for having the opportunity to explore this beautiful country full of intriguing history and stories to share.
Overall, my trip to Warsaw was enough to make me appreciate the good and the bad of what this country has to offer. I knew going in that Eastern Europe differed a bit from Western Europe, but until I saw and had the opportunity to experience it myself, I didn't understand what people meant. Nonetheless, I leave humbled and inspired. Thank you Warsaw for this experience!